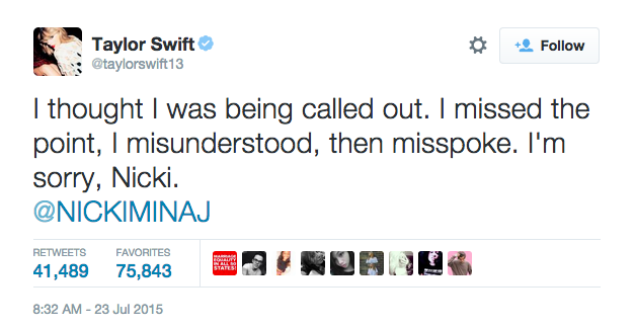 Taylor Swift has officially apologized to Nicki Minaj.
After several websites took the time to actually see where Nicki Minaj was coming from, they let everyone know that Taylor Swift was in the wrong, and that Nicki actually had a valid point – which she undoubtedly does. So, damage control to the rescue, right? Taylor made sure to tweet an apology for the world to see, so everyone can understand her side, and see why she said what she said, but know that she was sorry nonetheless.
Nicki Minaj Takes A Stand For Black Women At VMAs
Now that the apology is out of the way, we hope that Taylor can truly understand where Nicki is coming from. The VMA's this year will definitely be an interesting one, to say the least.