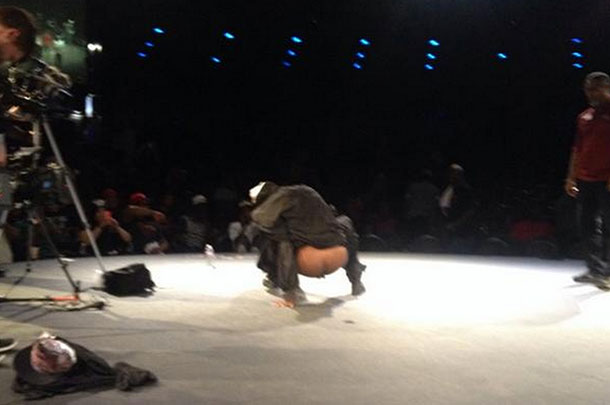 Battle rapper Daylyt is becoming known more for his over the top antics than his rapping. The Los Angeles-bred MC has pulled out his penis at a rap battle, worn cartoon costumes on stage, and even said he might perform fellatio on himself Go-Rilla Warfare's "Blueprint" event against Aye Verb. But during his latest battle the rapper literally tried to take a dump on stage. Yes, you read that right.
During his matchup against Real Deal in Phoenix this past weekend, the controversial battle rapper kicked off the event dressed in all-black with a cloak over his head. The crowd wasn't feeling his antics, and they wasted no time booing Daylyt for his foolery. But the audience's disapproval in the early rounds didn't stop Daylyt, and the antics continued, which included the rapper unveiling a fake decapitated head that he let roll across the stage.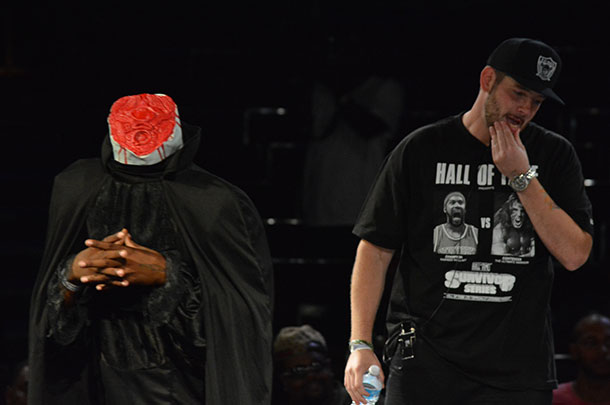 The crowd continued to boo the rapper as the battle went on, and Daylyt told the crowd "If I hear two more boos, I'ma boo boo on stage," Complex reports. Of course the boos continued, and as promised Daylyt pulled down his pants and tried to literally poop right there on stage. Luckily for everyone around security was able to stop Daylyt and escort him out of the building before he could do it.